Looking for the ultimate backyard barbecue wine? Our 2021 Turbine White Rhône Blend is the perfect wine to share on hot summer nights and will transport you to the sweeping hills of the Rhône Valley.
But first, what is a blend, and why does Anaba blend Rhône varietals? It all started when our Proprietor, John Sweazey, spent his youth galivanting around the french countryside and fell in love with the wines (and hospitality) from the Rhône Valley and Burgundy regions. In order to understand what a white Rhône blend is going to taste like, it's worth taking a moment to familiarize yourself with the region's most important white grape varietals. That way, the next time you see a back label describing a blend a winemaker has chosen, it will give you the chance to predict what flavors will be present in the wine.
Viognier is the most planted white Rhône varietal in California. It tends to be highly aromatic with notes of peach, apricot, and jasmine. It is lush, with flavors of stone fruits and low to moderate acidity. Viognier also has the ability to age and evolve over time to reveal subtle delicious nuances. (Hello Late Harvest Viognier Dessert Wine!)
Roussanne in general is considered the most age-worthy of the Rhône whites. It carries aromatics of yellow pear, white tea, and honeysuckle, and has flavors of honey, roasted nuts, and ripe pear. Generally, this wine provides a rich glycerin mouthfeel and moderate acidity.
Marsanne brings a taste of melon and minerals to wine and showcases a golden straw color. While remaining low in alcohol, Marsanne brings a certain elegance to a wine, which makes it a valuable addition to a blend.
Grenache Blanc tends to have higher acid with more structure and hints of green apple and citrus fruits. Grenache Blanc that we source from Snow Vineyard, tends to be bright and carry clean acidity with a good amount of tannins that are created from thicker skins found on each individual berry. (The Grenache Blanc clusters from Snow Vineyard can grow to be as big as your head!) Its crisp acid complement many Rhône varietals that tend to be lower in acid.
Picpoul Blanc translates to "lip stinger" because of its high acidity. Traditional notes on the palate for Picpoul wines include citrus and herbal flavors and strong minerality.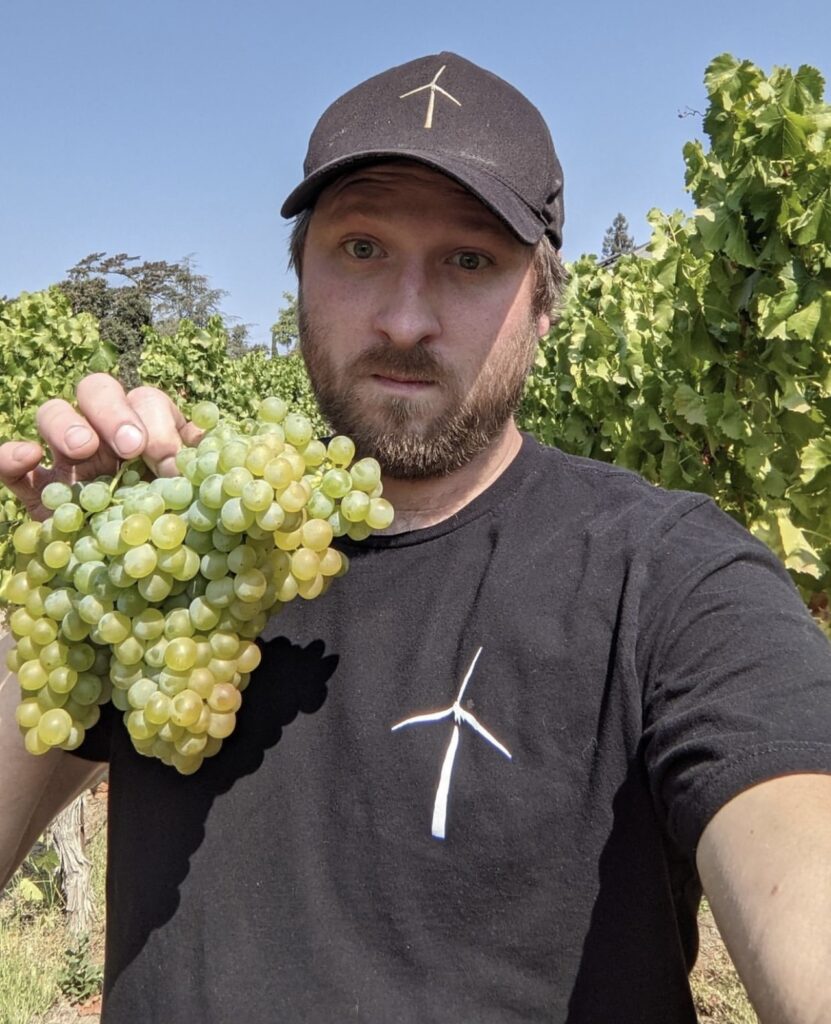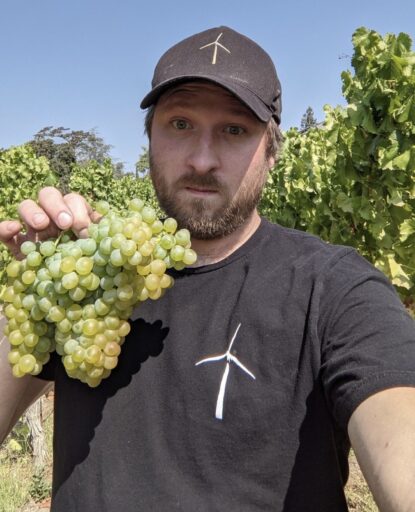 What makes our blend special is that we ferment and age all of our varietals separately, so when the time comes to blend, Katy Wilson, Anaba's Winemaker, is able to control how much of each varietal goes into the Turbine White Blend after the flavors have evolved past fermentation and aging. This gives us the ability to create exactly what we want our guests to experience and taste. Traditionally in Europe, when they plan on creating a blend, the varietals are blended together before they're aged. However, more and more winemakers in Europe are starting to age their varietals individually because they appreciate having more control over their blends and the subtleties of their end product.
Our Turbine White Blend serves as the perfect starting point when diving into our Rhône varieties. It is Viognier driven, followed by Rousanne, Marsanne, Grenache Blanc, and Picpoul. This wine is primarily Viognier because it brings a pleasant slippery mouthful to the wine. We've made our Turbine White approachable and inviting on purpose. Even though it may seem like there's a lot going on with this wine (because there is) it's meant to be an easy, delightful sipper, and consumed young. Enjoy this mouthwatering blend over a summer dinner of grilled fish and vegetables (and don't forget your cheeseboard!) and experience the Rhône Valley in your own backyard.
With the amount of fruit we source each year, we could easily make only the Turbine White Rhône Blend. Though, we feel it is our responsibility to show off the unique characteristics each varietal expresses and simultaneously highlight the incredible vineyards we work with when we produce our single varietal and single-vineyard wines. 
The Turbine White Rhône Blend is the perfect gateway wine into the world of white Rhône-style blends. Once you take a sip we promise you'll want to try each varietal on its own!