March is Women's History Month and to celebrate we wanted to shine a spotlight on our very own trailblazing winemaker, Katy Wilson! From growing up on a small walnut orchard to becoming a well renowned winemaker Katy is the epitome of entrepreneurial spirit. From the beginning, Wilson's upbringing molded her for a career in wine. She learned how to drive a tractor well before learning how to drive a car, preparing her for a future in wine where forklift driving is basically a rite of passage.
Wilson realized that her calling was a career in wine after her professor mentioned winemaking as a career path during an Agriculture Business 101 class while attending Cal Poly. Discovering an industry that combined agriculture, chemistry, and creativity highly appealed to her. She then graduated from Cal Poly in 2005, double majoring in Wine & Viticulture and in Agricultural Business.
"With wine, you're caring for these vines all through the season and then you're taking the fruit and creating something totally different from it, and every year is different. There's so much science and creativity and agriculture all wrapped up into one. I figured out at an early age that was what I wanted to do."

– Katy Wilson, Anaba Winemaker

Wilson's first endeavor into the wine world started with working on a 1,000 acre vineyard in the Central Valley where she started out taking care of the vines. She also spent two years working in a tasting room at Eberle Winery in Paso Robles while in college. Her first harvest was at Testarossa Winery, located in Los Gatos, California, where she learned how to keep the cleanest winery around. From there, she ventured down to the Southern Hemisphere where she worked for the Torbreck Vintners in Barossa Valley, Australia and gathered the wisdom and experience necessary to become well rounded and successful within the wine industry. Eventually, she made her way back to California and experimented in making Cabernet Sauvignon at Joseph Phelps Winery. Returning to the Southern Hemisphere, she worked in Hawkes Bay, New Zealand at Craggy Range, further expanding her wine education and experience.
After a few years, she found herself along the Sonoma Coast at Flowers Winery where she learned what it took to make distinguished Pinot Noir and Chardonnay. Wilson was able to work her way up from harvest enologist to assistant winemaker. During this time she fell in love with Sonoma Coast Pinot Noir and all of its subtleties. Wanting to further diversify her experience and wine knowledge even more, she decided to work for Kamen Estate Wines in 2009 as the associate winemaker making bold Cabernet Sauvignon and Syrah for five years.
At the young age of 26, she made her dream a reality by releasing Pinot Noir under her own label, LaRue Wines. She came up with her own business plan, knowing she wanted to create a small winery that made only 500 cases for each vintage. Wilson went from person to person looking for the right investor, and she found that people wanted to invest, if they were able to possess at least 50% ownership.
"Everyone that I talked to wanted 50% ownership of LaRue, and that just doesn't make sense for such a small winery."

– Katy Wilson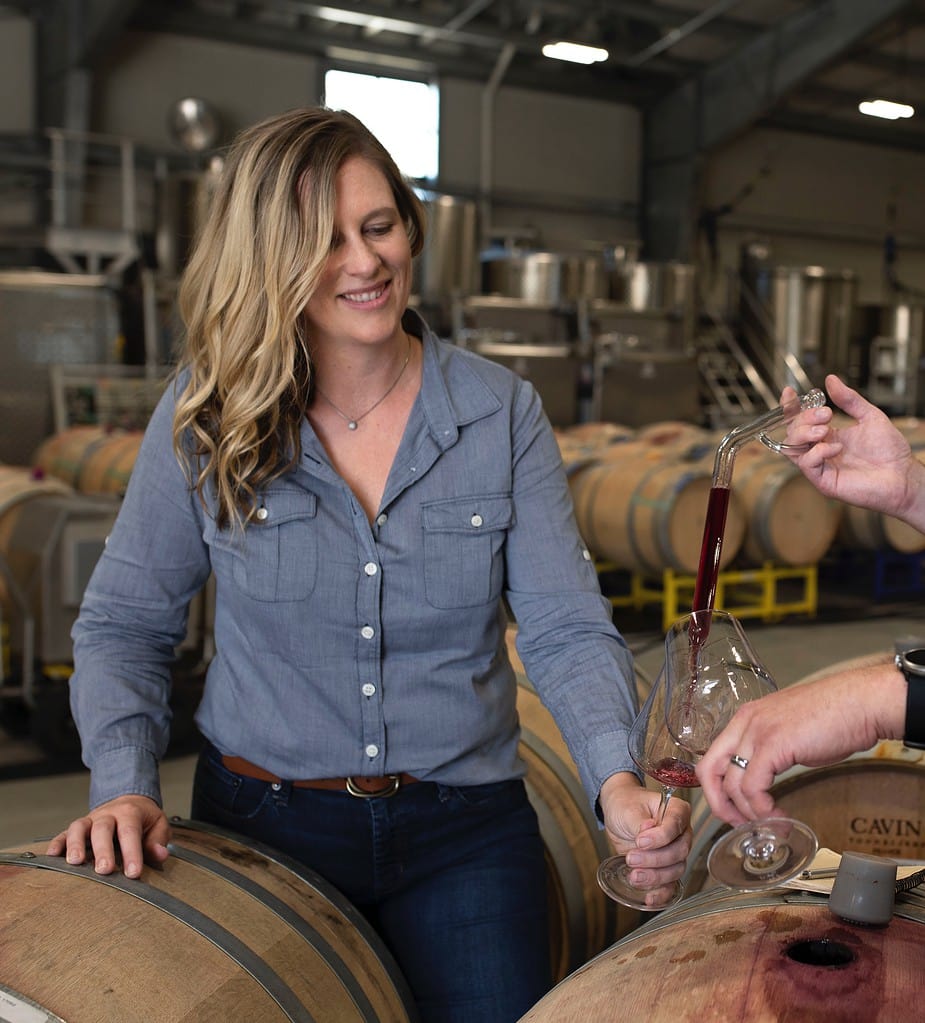 Eventually, she found a colleague who would loan her the money along with some valuable advice — to always maintain full ownership of her winery. Wilson has since paid the loan back and took that advice to heart and retains full ownership of LaRue Wines.
"I called my great-grandma up and told her that I named the wine after her and she said, "Well, I can't say you picked the best name in the world, but it will do."

-Katy Wilson
In the following years, Katy continued to build LaRue while working at Kamen Wines. During this time she also started her consulting career. From 2012 to 2014, she had a very busy schedule kicking off her consulting career, getting LaRue established, and working full time at Kamen. In 2014, she decided that it was time to leave her job at Kamen and focus solely on LaRue and consulting. It was also the same year that she joined Anaba Wines. She continues to make wine for three other wineries along with Anaba and LaRue.
In an industry that is predominantly made up of men, Katy has helped pave the way for future women winemakers just by being a present force. She has set the precedent and is an example of the pure energy, drive, and willingness to learn it takes to become a female winemaker in today's society.