Our Turbine Line is an extension of our deepest values and intentions here at Anaba. With this line, we have been able to make sustainability our priority, while creating delicious and approachable wines inspired by the wind.
Anaba has always strived to produce sustainable wines, and this vintage of our Turbine line is the most sustainable wine yet. It utilizes a lighter weighing glass to offset carbon emissions and will not use capsules. We source the fruit from family-owned vineyards that share our values regarding farming practices and caring for the land, with the shared goal of moving towards more organic farming practices. These strategies include using fewer fossil fuels throughout the vineyard by switching to electric and utilizing regenerative agriculture by planting cover crops.
The Turbine Line was created to be easy to drink and inviting. Anaba Proprietor, John Sweazey, fell in love with the French countryside and their fondness for producing the most amazing wines at affordable prices. With Anaba, he wanted to create a brand that took great pride in the wines being made. Regardless of your wine knowledge, everyone has a seat at the table at Anaba. Our hospitality is a reflection of the experiences John encountered in France; a warm and inviting space for each person that walks in our tasting room. In general, our goal is for Anaba to become your third place, meaning it should be home, work, and Anaba. The Turbine Line allows you to take a piece of Anaba home with you. It's the kind of wine you can enjoy on a Wednesday night with Netflix in the background.
In February of 2022, the Anaba team started talking about a new label design for the Turbine Line with a whole new direction and redesign in mind. It's breezy, ahead of its time, and authentically us.
We knew we wanted to incorporate watercolor, due to the medium's sense of movement, depth, and how it metaphorically encapsulates the landscape around us. Initially, the entire design was meant to be created digitally, but when the vision wasn't coming together quite right, Emily set off to hand paint, knowing that the soft blending of color would never feel as authentic if not done by hand. The palette we chose represents the colors we find in nature, specifically, the Turbine White Chardonnay's blend of creams, golden hues, pinks, and a lush purple, which reminded us of the extraordinary sunsets that fall behind our Vintners House and watch over our JMcK Vineyard. The idea to use a triangle-shaped label was born of the elemental sign for wind.
The combination of our love (obsession) of wind, sustainability, and making delicious wines that encapsulate the wonderful family-owned vineyards we are privileged enough to work with, is the heart and soul of Anaba's Turbine Line.
When you join our club, you'll be able to experience these small-run wines and feel good supporting a family-owned business that strives to be a leader in the wine industry. It also allows our members to be a part of the process and see that there are people inputting a high level of care when it comes to the minute details. Whether it's triple checking that the labels won't end up even a millimeter off when placed on a bottle, or someone going the extra mile in the cellar to clean something the correct way instead of the easy way, the hard work and attention to detail come together to create delicious, memorable, and sustainable Anaba wine.
Early in the morning, and late at night, Emily created the initial design by painting the watercolor layers by hand. She then worked some digital magic that lead to the vibrant tones in the final design.
Early mock-ups. Our first time seeing the label on a bottle (cut out and with scotch tape).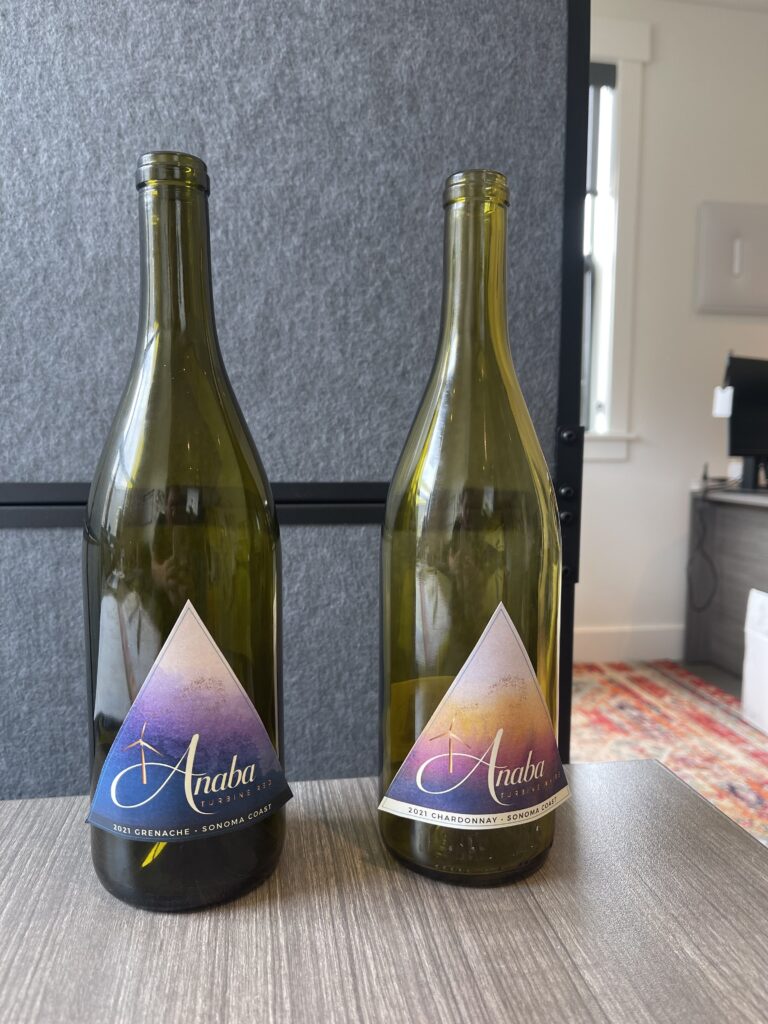 Bottling Day At Anaba
July 7, 2022
Too early in the morning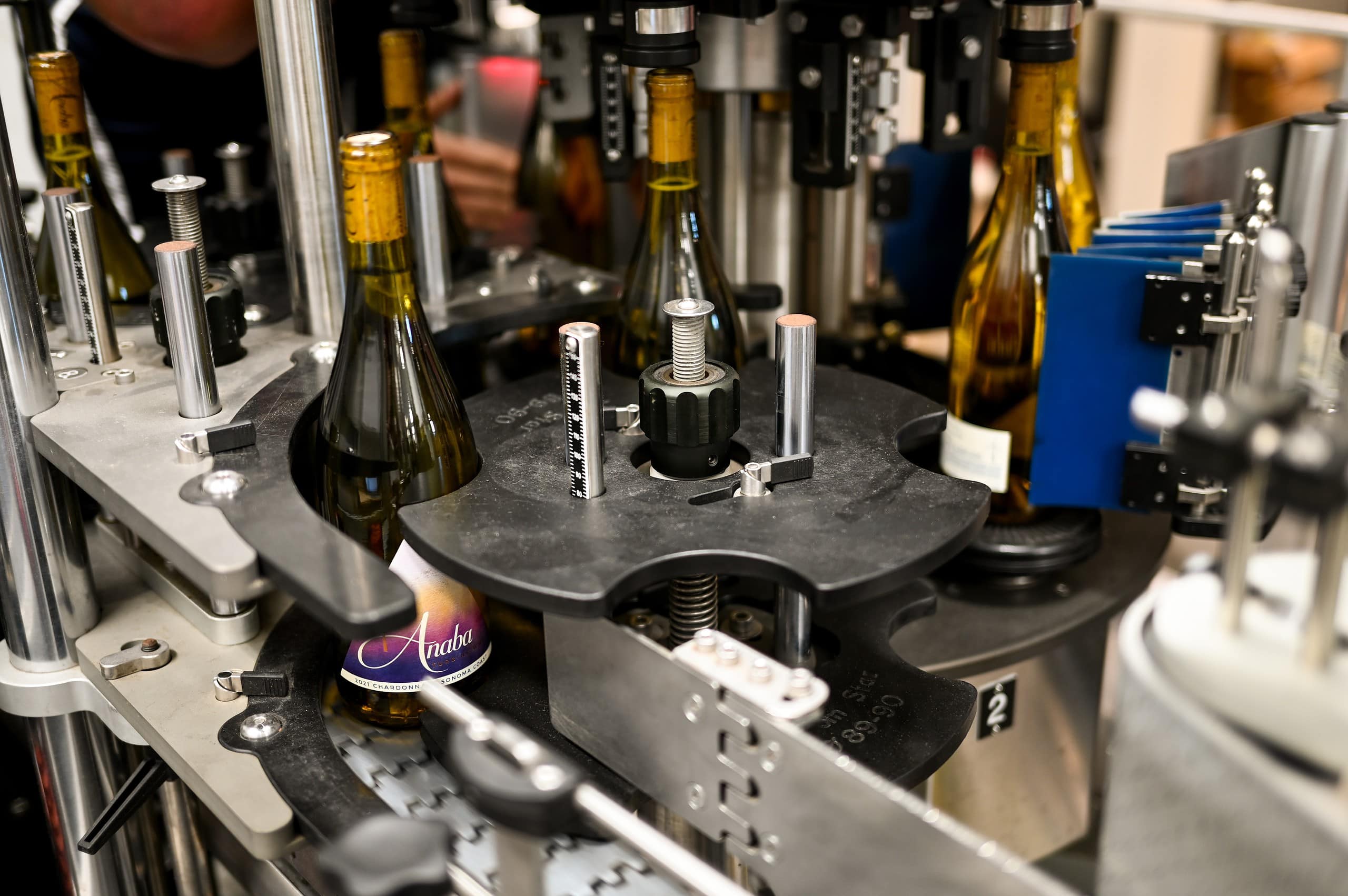 Bottling Anaba's 2021 Turbine White Chardonnay